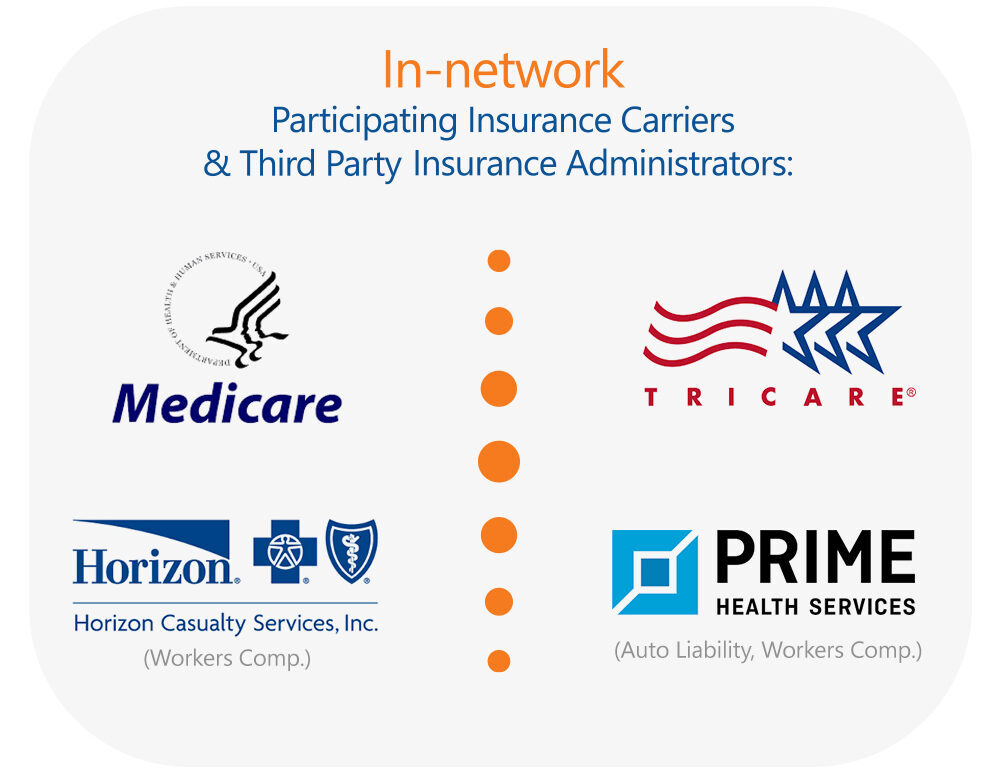 Health Insurance Information
for Patients
At Englewood Spine Associates, our primary goal is to help you feel better as quickly as possible, so you can enjoy life with less pain. But getting the right treatment to address your unique needs is only one part of the equation; you need to consider the financial aspect.Though our providers are out-of-network with most insurance plans, we will work with you and your insurance carrier to ensure you receive the medical care you need at a cost that works for you.
We will review potential partnerships with a number of different carriers and participate with the following:
Why are we out-of-network?
An in-network provider enters into a contractual agreement with insurance carriers that mandates lower fees in exchange for access to more patients. A higher volume of patients often results in less personalized attention.
Because we provide services on an out-of-network basis—without the limitations imposed by insurance companies—we have the flexibility to see fewer patients, which allows us to commit more time and greater focus on each.
What this means for you:
Most insurance plans offer out-of-network benefits. Similar to in-network benefits, out-of-network benefits are generally subject to deductibles and co-insurance, with an annual maximum out-of-pocket amount. In other words, in most cases, you will be reimbursed a large portion of the expenses directly from your insurance carrier.
Because our approach is grounded in delivering personalized care with individual attention, we will work with you to navigate the process, so you'll know exactly what you can expect and make the right choices for you. Our patient advocates will walk you through the process and help to ensure you receive the appropriate payment from your insurance carrier.
The benefits of working with an out-of-network provider:
Englewood Spine is an independent practice, which means we are not owned or controlled by a mega group or hospital system. As a result, we have the freedom to be extremely selective when it comes to recommending surgery. Without the added pressures or contractual mandates from outside entities, we are able to take a highly conservative approach to treatment—one that seeks to keep patients out of the operating room whenever possible.
The concierge nature of our practice affords us the time—and the mindshare—to cater to your specific needs, listen to you, engage in a lengthy dialogue, and assess your condition with a more holistic lens. A lower patient volume also makes it possible for you to get an appointment or schedule surgery sooner rather than later—and at a time that is more convenient to you. Additionally, our team of physicians, physician assistants, and medical assistants are extremely accessible for questions, concerns, and more. When you need us, you get us.
Other important information:
We participate with standard Medicare. We do not participate with Medicaid.
We offer virtual telehealth services, which are covered by most insurance providers. Because we use high-definition video and audio technology, you benefit from real‐time, two‐way communication with our physicians from the comfort of your own home via secure online virtual sessions.
Our physicians work with several workers' compensation carriers, including MCOs (managed care organizations).
Our physicians participate with many Auto Insurance (PIP) plans.
For more information or questions related to your medical insurance or PIP plan, worker's compensation, or our telehealth services, call us at (201) 608-5656.